DeBulCo Introduces Laser-Punch with Automation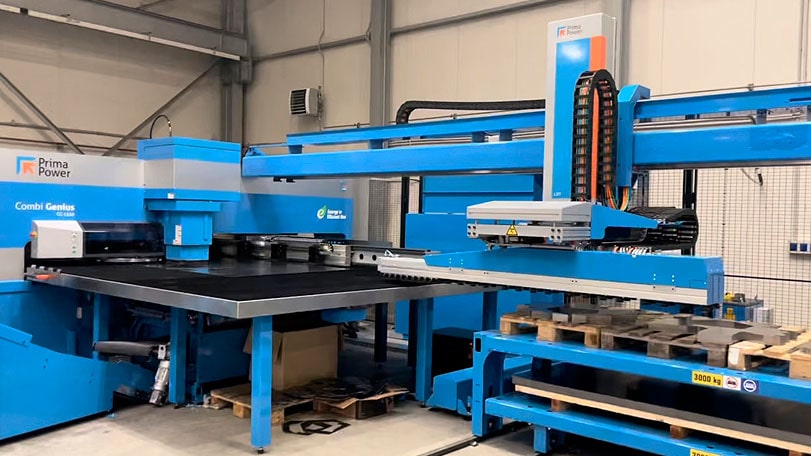 An innovative technology designed to benefit customers
We are pleased to share that DeBulCo has installed and launched a new cutting-edge technology for a significantly more efficient production process– the fully automated laser cutter PRIMA POWER. This system enables autonomous processing of metal sheets up to 3000×1500 mm, and thickness up to 8 mm. The machine does everything by itself – firstly, it automatically picks up and loads the sheets to be processed, secondly, it cuts the workpieces and finally, it sorts them on the pallet. The waste grid is removed completely independently.
And that is not all – the processing itself can also include multiple functions. The machine incorporates a 4KW laser source, known as the most powerful on the market for this type of machine, which allows cutting of stainless-steel sheets up to 8 mm. Moreover, the additional punching functionality with revolutionary capabilities offers an exceptional impact force that helps for a high performance even in more complex situations.
Our machine can also work with significantly larger tools than those of our competitors, which combined with its high speed, results in a dramatic increase in productivity. Additionally, a threading head with six positions can cut up to six different threads in one program. And the best part is that all these activities are accomplished extremely quickly and reliably without wasting space, time, or effort. If a problem occurs, the machine will autonomously stop and alert about the error.
Three conveyors work as assistants to the machine – one for unloading small workpieces from the laser, another for unloading small workpieces from the punching head and a third, which takes care of the small scrap from the punching. In addition, you do not have to worry about processing at high speed as the four clamps always hold the sheets. Sensitive materials such as mirror metal sheets are also safe as the area is equipped with brushes rather than rollers, which protect the surface from scratches.
What inspired the investment?
The products we manufacture are parts for high-tech industries, such as electronics, automation, and high-quality parts of premium machine builders, which are world leaders in their field. Our clients' needs are extremely important to us, as well as the need to increase the efficiency of our work. The laser-punch -cutting machine runs 24/7 fully automatically, without the need for constant supervision. Furthermore, the power consumption is extremely low due to the modern servo-electric technology. Of course, we cannot fail to mention DeBulCo 's desire to provide its customers with the best possible technology and service. Our goal is to be innovators, to always improve, and to continue making our customers satisfied with our fast, efficient, and high-quality work.
If you need more information about our production and products, please send us an inquiry at info@debulco.bg
---
---